There are several classification systems for hair loss. The most widely utilized are the Norwood Classification Scale for men and the Ludwig Scale for women1. This allows physicians to understand the progression of hair loss, objectively document hair loss and document improvements in the scale with hair restorations treatments. For example, Norwood Type I is mild recession of the hairline, whereas Type VII is near complete baldness. Similarly, in women, Ludwig I has widening of the part while Ludwig III has severe diffuse central hair loss. All stages are treatable with either surgical, non-surgical or most often combination therapies.
1Gupta, M. and Mysore, V. Classifications of Patterned Hair Loss: A Review; J Cutan Aesthet Surg. 2016 Jan-Mar; 9(1): 3–12
Norwood Classification
This 7-stage scale (see Illustration) was originally developed in the 1950's by Hamilton and modified by Dr. O'Tar Norwood, a dermatologist and hair transplant surgeon, in 1975. He observed that thinning begins in the temples and progresses to the entire scalp. This scale is widely used by physicians to document the severity of male baldness. It can also serve as a template to guide hair restoration planning.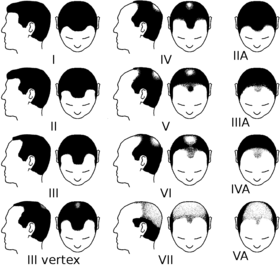 Type I:
Minimal recession of hairline
Type II:
Triangular, usually symmetrical recession in along the fronto-temporal hairline
Type III:
The is the first stage which is qualifies as "baldness". There is deep bilateral temporal recession with either sparse or no hair.
Type III Vertex:
There is associated loss from the vertex.
Type IV:
More severe fronto-temporal hair loss than in Type III, with sparse or no hair on the vertex. There is a band of moderately densely populated hair extending across the top of the scalp and connecting to both sides of the head.
Type V:
The vertex and the fronto-temporal areas are still separated though less distinct. The hair band across the top of the head is narrower and sparser with larger areas of loss in the vertex and fronto-temporal areas.
Norwood also described a Type A variant of his classification system for Types II – V. These have 2 major and 2 minor features. The major features include:
The anterior border of the hairline progresses to the rear without leaving an island of hair in the mid-frontal area
A simultaneous bald area on the vertex does not develop.
Minor features include:
As opposed to no hair, there is persistent sparse hair in the areas of hair recession
The horseshoe shaped band of hair along the sides and back of scalp tends to be taller and wider than
Type IIA: The hairline is anterior to a point 2 cm anterior to a line drawn on top of scalp connecting each ear canal.
Type IIIA: The hairline has receded back to a line drawn on top of scalp connecting each ear canal.
Type IVA: The hairline has posterior to a line drawn on top of scalp connecting each ear canal but has not reached the vertex.
Type VA: The area of hair loss includes the vertex. Hair loss more severe than Type VA cannot be distinguished from Types VI or VII.
Ludwig Scale
This a classification system for female pattern baldness and ranges from I to III (see Illustration). Approximately 70% of female hair loss fits this scheme and can be managed with non-surgical hair restoration. Women with male pattern baldness may be better classified with the Norwood Scale and can be managed with a combination of non-surgical and surgical hair restoration.
Grade I:
Visible thinning of the vertex while the hairline back about 1-3 cm is preserved
Grade II:
Pronounced thinning and loss of density on the vertex and top of scalp
Grade III:
Complete baldness in areas I and II
Severe Ludwig II Hair Loss Examples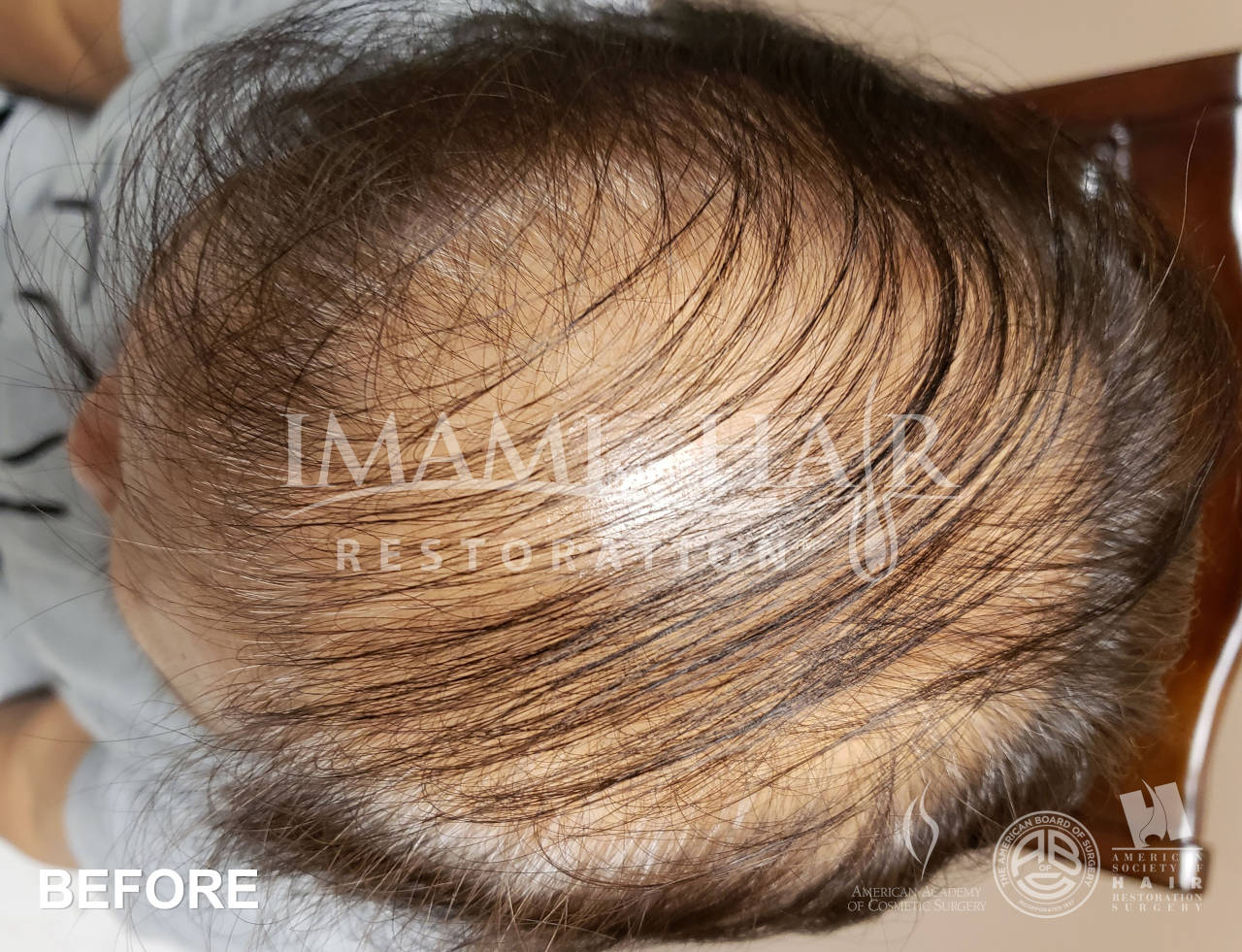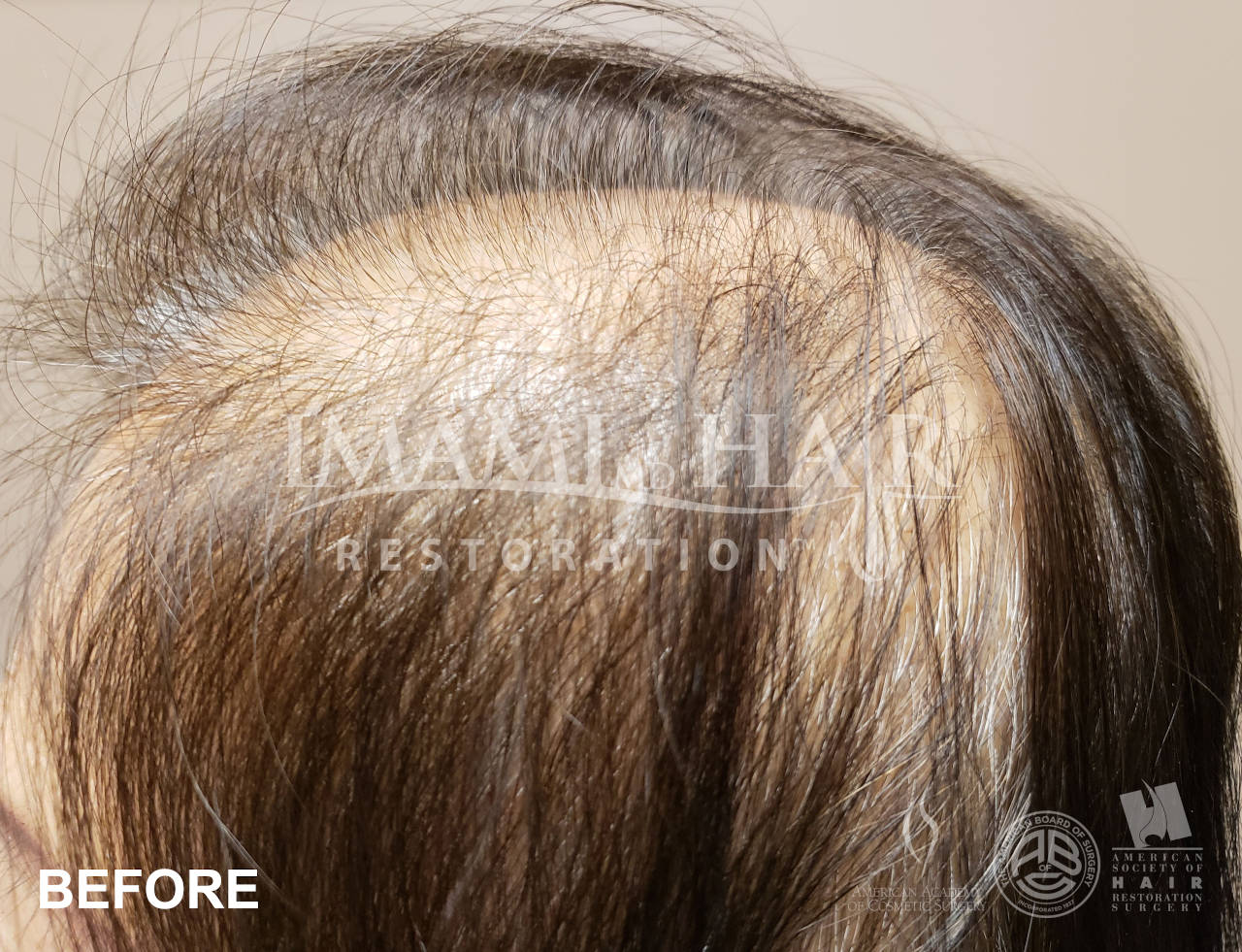 Experience Healthy, Thicker Hair
"*" indicates required fields